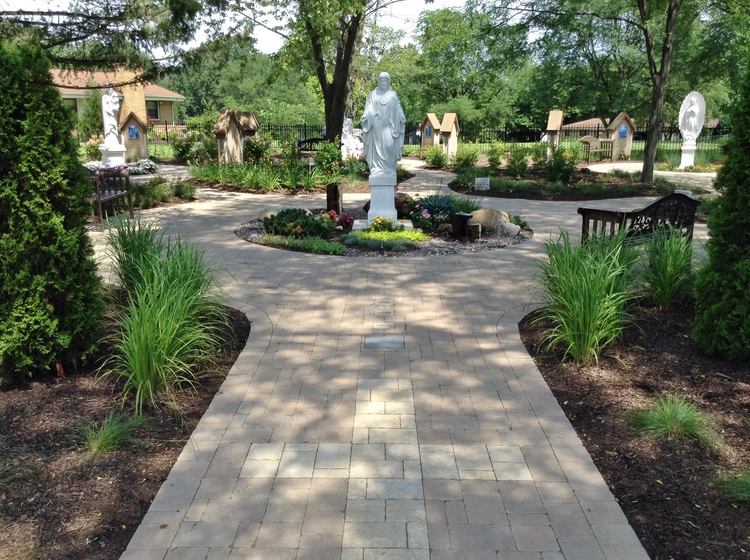 Commercial Landscape Design Patio Walkway/Path Paving Brick Water Feature Shrubs Flowers Trees
After visiting Rosary gardens in the surrounding area, the leaders at St. Rita Catholic Church knew it was time for a beautiful and sacred sanctuary of their own. Church leaders had many goals in mind such as handicap accessibility, proper lighting for extended use and safety, private and open spaces, easy navigation through the rosary prayers, and durability.
First, we recognized that the existing mature trees around the site were extremely valuable to the project because they added both scale and depth. We wanted to add warmth and even more scale to the space so we installed more than 1200 hardy plants of different types.
When it came to the actual hardscape, we installed approximately 2,300 square feet of Ashbury Haze Belgard Mega-Dublin pavers. Of course, no sanctuary would be complete without the peaceful resonance of running water so we designed a three-stone basalt water feature with a winding dry creek for the center of the garden. We finished the project by installing low voltage LED accent lights and put lights throughout the garden. The statues and markers were purchased by the church.
More than five months after breaking ground, the new Rosary Garden was complete and the parishioners and guests of St. Rita Catholic Church had a new place to worship and honor the Blessed Mother of Jesus.