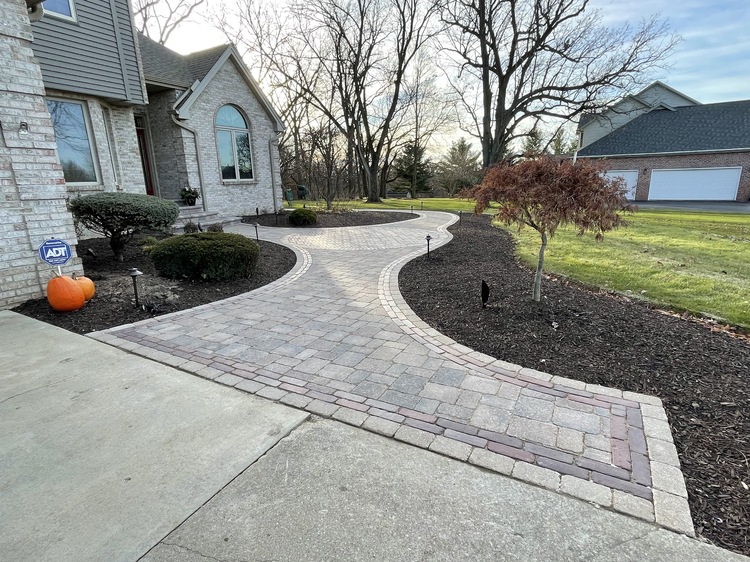 Residential Landscape Design Patio Walkway/Path Paving Brick Concrete Brick Natural Stone Landscape Lighting Decorative Wall Grill Fire Pit
When we first met the homeowners, they expressed an interest in a "world class" entryway and patio design suitable for hosting large get-togethers with family and friends. Size was important to them as well as the ability to entertain in weather that was less than ideal. They already had a patio deck, but it needed some upgrading and a little more character to complement the other nicer features of their property.
We recommended expanding and connecting the front entryway to the back patio so we began the project by removing the existing concrete walkway and stoop from both the front and the back deck. By installing a wider walkway with a large greeting circle in the front, the entryway space was increased allowing for more space when guests migrated to and from the backyard. Since the homeowners preferred curves over straight lines, we designed a curvilinear pattern that flowed towards the back.
Because there was a significant difference in height from the ground level to the back door, we made sure to accommodate this environment with a multi-level patio. Each level of the patio has unique characteristics including a kitchen and bar area on one level featuring a grill, sink, refrigerator, built-in trash can, warming drawer, and granite countertop. Another level boasts a firepit encompassed with a seating area consisting of a double wide seat wall with a backrest and a smooth bench seat made with custom limestone. The firepit consists of a custom gas burning plate by Fire Gear.
A large pitched roof above the grilling and bar area was also constructed and premium led low voltage lights with various illuminating and color options from FX Lighting were installed. The brick material was purchased through Unilock and the kitchen appliances came from Summerset. The next phase of the design will be greenery planted in the appropriate places to tie the hardscaping together. The homeowners are now ready to entertain!