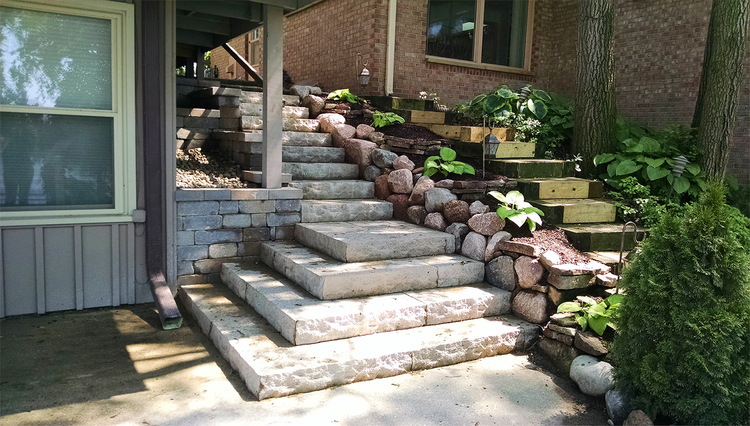 Residential Patio Walkway/Path Paving Brick Decorative Wall Natural Stone Shrubs Rocks Concrete Brick
This beautiful river-front home has stunning views. Unfortunately, the only access to it was through the house or via a treacherously worn staircase. With an update needed, there were some crucial components to consider before beginning this project. First, part of the existing stonework supported the upper deck. Second, there was no machine-access to the site (the crewmen originally carried all of these stones individually by hand). And third, the project was right on the property line.
Our solution was to stabilize the deck with a temporary support beam, then continue to deconstruct and eliminate the old stones. The new steps were constructed using Unilock Ledgestone step units in Buff and complementary retaining walls were installed using Unilock Old Quarry wall stone in River. To maintain an even rise in height on each step, the overall stairway was expanded and ended perfectly at the end of the home's foundation. Now this owner has a comfortable and safe stairway to use while enjoying this beautiful backyard and the stunning scenery.