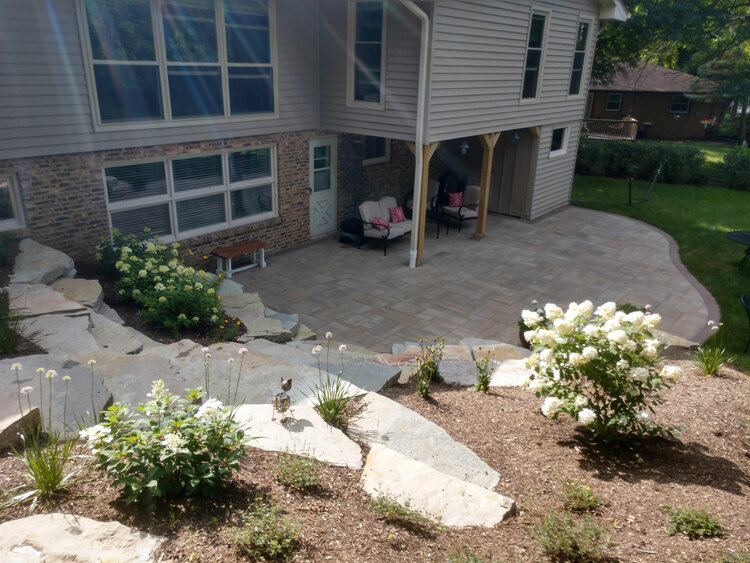 Residential Landscape Design Patio Walkway/Path Paving Brick Flagstone Retaining Wall Concrete Brick Shrubs Flowers
This terraced landscape was in need of a makeover. Dated flagstone steps were uneven and falling apart, thus making them dangerous to traverse. And, the patio was dingy and offered limited usable space. It was time to bring the landscape up to a clean, contemporary look while complementing the home's structure.
We needed to contend with a steep hillside that was adjacent to the proposed patio area. The homeowner expressed a desire to not only update this space, but to incorporate its natural elements into the landscape. So, when working on the design, we chose to use large Chilton natural outcropping stone along the hillside to serve both as the retaining wall and the staircase leading from the upper yard to the lower patio. This was not only functional, it created a beautiful tapestry of stonework interwoven with ornamental plants that aided in erosion control. The new patio expanded into one cohesive space with smooth curving lines that didn't take away from the natural feel of the location.
Finally, we cut the patio into the natural wall stone to give the feeling that the patio was constructed around natural outcropping. Unilock's Beacon Hill Smooth pavers in Bavarian Blend and Hollandstone Premier pavers in Heritage Brown were used for the patio.