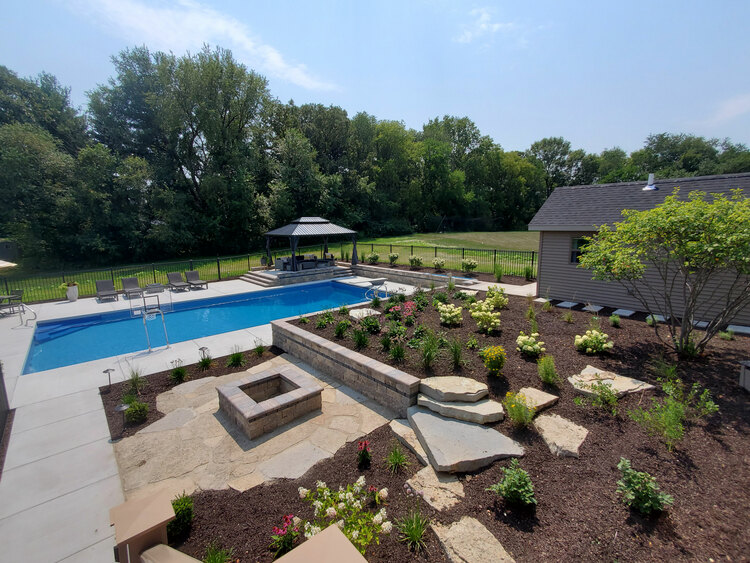 Residential Landscape Design Patio Walkway/Path Flagstone Retaining Wall Decorative Wall Concrete Brick Natural Stone Landscape Lighting Fire Pit Shrubs Flowers Trees
When we first started this project, the homeowners intended to install an in-ground pool. Because the elevation of the grade drastically changed throughout parts of the backyard, a retaining wall was needed around the outer edge of the pool. After a contractor poured concrete around the outside section of the pool, we installed a retaining wall surrounding most of the area.
Convenient entrances and exits were also a key part of this plan. We provided two main entrances using matching brick to create stairs going up and down the changing grades. The owners also wanted two different entertaining areas — each with its own elevation. The firepit area was created with natural flagstone to provide a ground level area along with a raised smaller patio where guests could get out of the sun and relax. The raised patio section was built using the same brick for the retaining walls and covered with a closed roof pergola.
The entire landscape was complemented with low-maintenance plants including native coneflowers and colorful varieties of low-growing perennials. To balance the unevenness, hydrangeas were planted throughout the landscaping beds. Materials used included Unilock Estate wall block River color with full-nose coping, Chilton flagstone around the fire pit, a mix of low maintenance perennials, coneflower, coreopsis, allium, low growing shrubs, and hydrangea.